Presacral dermoid: now you see it now you don't
Gynecological Surgery
Endoscopic Imaging and Allied Techniques
2007
4:278
Received: 29 September 2006
Accepted: 9 February 2007
Published: 13 March 2007
Abstract
In this paper, we describe a presacral dermoid which was not seen at laparoscopy, despite being quite large and causing displacement of the rectum on magnetic resonance imaging (MRI). It later became symptomatic and was removed laparoscopically. Histology confirmed it to be a benign developmental cyst.
Case report
A 33-year-old white Caucasian woman presented with a three-year history of primary infertility. She had a regular menstrual cycle; however, her periods were quite heavy and painful. Pelvic examination was normal
She had a normal hormonal profile indicating an ovulatory cycle. HyCoSy assessment confirmed flow and spill on the right tube, but no flow was seen on the left side, indicating possible left obstruction. A laparoscopy and dye showed a retroverted uterus with extensive endometriosis (Fig.
1
). The left ovary was adherent to the back of the uterus. There were large bowel adhesions on both sides. No fill or spill was seen from either tube, indicating possible bilateral tubal obstruction. A suspicion of a left endometrioma was noted. An ultrasound scan, performed four months later, suggested the possibility of a left endometrioma measuring 16 mm and a well defined endometrioma on the right side separate from both ovaries. A laparoscopic treatment of a 3-cm left ovarian endometrioma was subsequently carried out. However, no other cysts were seen. Treatment was carried out, not because of pain, but because of fertility issues.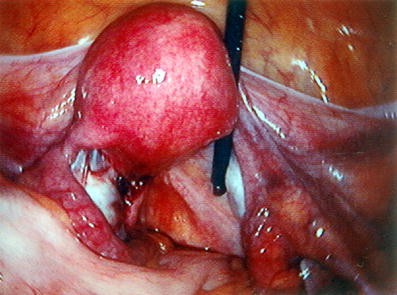 An ultrasound scan carried out following the laparoscopic procedure showed a large cystic area with internal echoes, suggesting an endometrioma measuring 8 cm with a volume of 235 cc. Again, it appeared separate to either ovary. A magnetic resonance imaging (MRI) scan showed a cystic mass displacing the rectum to the left (Fig.
2
). The uterus, both ovaries, sigmoid and rectum appeared normal. These findings were discussed at the radiology meeting. It was concluded that this was most likely an epidermoid cyst in the ischiorectal fossa.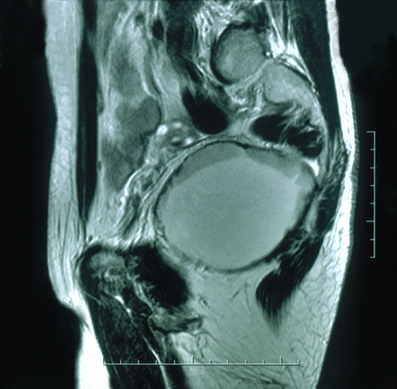 She was referred to the general surgeons who diagnosed the cyst as a presacral dermoid. Upon examination, the cyst was not encroaching on the rectum, which explained why she remained asymptomatic. A decision was made for conservative management in light of the fact that this cyst had probably been there since birth and had never caused her any symptoms. The indications for removing it were, therefore, minimal and the morbidity from such an extensive surgical procedure could be significant. A plan was made to review her in a year with further imaging studies.
However, 10 months later, she had low back pain and sacral pain. We are not sure whether the patient's awareness of having a cyst in the pelvis made her symptoms more noticeable in the 10 months after diagnosis. Certainly, her symptoms were not cyclical endometriosis. Consequently, one would assume that it was more due to the dermoid cyst rather than the endometriosis. A repeat MRI showed that the cyst had not changed in size. In view of her symptoms and because of the concern that the cyst may make delivery more difficult for her in the future, she underwent laparoscopic cyst removal. During the laparoscopic removal of the dermoid cyst, there was no overt endometriosis seen during laparoscopy. Histology confirmed a presacral developmental cyst lined by squamous, pseudostratified columnar and transitional epithelium. Her symptoms improved postoperatively.
Discussion
Presacral tumours are rare and originate anterior to the sacrum and coccyx. They can be classified as congenital, neurogenic, bony and miscellaneous [1]. Dermoid cysts are the most common congenital presacral lesions and arise from totipotent cells, which are ectodermal in origin. They are usually found near the midline anterior to the sacrum or in the ischiorectal and perirectal areas. Some may be associated with coexistent spina bifida. Whitaker and Pemberton [2] reported that, in their series, presacral dermoids occurred mainly in females of childbearing age. The higher incidence in females has been theorised to be due to the fact that the ovary takes 15 days longer to develop than the testis, allowing more time for the primitive cells to become ectopic [3].
Most are initially asymptomatic and usually manifest later in life. Symptoms are usually due to the compression or obstruction of adjacent structures or from pressure on the pelvic nerves or bone [4]. The variable symptoms include constipation, alteration in bowel habits, rectal or sacral pain, pelvic pressure, partial urinary obstruction, dyspareunia or vaginal pain [5]. They can also obstruct labour, necessitating caesarean section [6]. Presacral dermoids may become infected and may present as infected sinuses or abscesses [5].
Rectal examination may help in diagnosis. X-ray studies including barium enemas may show displacement of the rectum often anteriorly and laterally by an extrinsic mass. Ultrasound, computed tomography (CT) and MRI can provide definitive diagnosis, even in the absence of calcification and fat.
Due to the risk of infection and the nature of the symptoms they cause, the surgical removal of these tumours is advisable [7, 8]. These tumours can be managed surgically by various approaches, including transsacral, transperineal and abdominal/perineal [4]. In select patients, the transrectal approach may be used [8]. Laparoscopic removal has been described and avoids the considerable morbidity associated with open surgery [9].
In our case, despite diagnosis on MRI, the cyst was not seen on laparoscopy. This shows that imaging studies may be more reliable in certain cases of chronic pelvic/sacral pain in which laparoscopy has been negative. The rare possibility of presacral dermoids must be considered in women with suggestive symptoms and appropriate investigations should be undertaken.
Authors' Affiliations
(1)
Department of Obstetrics and Gynaecology, Colchester General Hospital, Colchester, UK