Review Article
Open Access
Postoperative abdominal adhesions and their prevention in gynaecological surgery. Expert consensus position. Part 2—steps to reduce adhesions
Rudy Leon DeWilde

1

Email author

,
On behalf of the Expert Adhesions Working Party of the European Society of Gynaecological Endoscopy (ESGE)
Gynecological Surgery
Endoscopic Imaging and Allied Techniques
2007
4:333
Received: 12 July 2007
Accepted: 12 July 2007
Published: 10 August 2007
Abstract
This consensus position represents the collective views of 35 gynaecologists with a recognised interest in adhesions. The first part of the position was presented in the previous issue of Gynecological Surgery and reviewed the published literature on the extent of the problem of adhesions. In this part, the opportunities to reduce their incidence are considered. Collective proposals on the actions that European gynaecologists should take to avoid causing adhesions are provided. Importantly, in this part, the need to now inform patients of the risks associated with adhesion-related complications during the consent process is discussed. With evidence increasing to support the efficacy of adhesion-reduction agents to complement good surgical practice, all surgeons should act now to reduce adhesions and fulfil their duty of care to patients.
Keywords
AdhesionsAdhesiolysisGuidelinesGynaecologySurgery
Introduction
Adhesions are the most frequent complication of abdominal surgery and may represent one of the greatest unresolved medical problems in medicine today [1], yet, many surgeons are still not aware of the extent of the problem and its serious consequences.
Recent epidemiological data have demonstrated that, despite advances in surgical techniques in recent years, the burden of adhesion-related complications has not changed [2, 3]. While laparoscopic procedures are commonly believed to be less adhesiogenic and cause fewer de novo adhesions to form compared to open surgery [4, 5], for many procedures, the comparative risk of adhesion-related complications following open and laparoscopic gynaecological surgery is similar [3].
Developments in adhesion-reduction strategies and new agents do, however, now offer a realistic possibility of reducing the risk of adhesions forming and, thus, may improve the outcomes for patients and the associated onward burden. The importance of providing clear recommendations on adhesions and their prevention following gynaecological surgery is very apparent.
The paper details the second part of the project undertaken by the Expert Adhesions Working Party of the European Society of Gynaecological Endoscopy (ESGE).
The first paper published in the previous issue of Gynecological Surgery provided an overview of the published literature on the extent of the problem of adhesions and, in this paper, the opportunities to reduce it are presented. A consensus of opinion on the actions that European gynaecologists should now take is provided. These proposals are collective opinions and should not be used for performance measures or competency purposes. Together, these two papers provide a collective consensus position which it is hoped will raise the level of awareness and the understanding of adhesions, and the associated healthcare burden and costs, thereby, encouraging heightened discussions and actions to address this area of unmet need.
Steps to reduce adhesions
The generally accepted method of reducing adhesions is a meticulous surgical technique [
6
] and, within that, the rules of microsurgery are fundamental [
7
]. In particular, they need to be re-emphasised in laparoscopic surgery and in the treatment of endometriosis, where there is heightened inflammatory response and angiogenesis, with a corresponding propensity for adhesion development [
7
] (Table
1
).
Table 1
Adhesion-reduction steps
Carefully handle tissue with field enhancement (magnification) techniques
Focus on planned surgery and, if any secondary pathology is identified, question the risk benefit of surgical treatment before proceeding
Perform diligent haemostasis but ensure diligent use of cautery
Reduce cautery time and frequency and aspirate aerosolised tissue following cautery
Excise tissue—reduce fulguration
Reduce duration of surgery
Reduce pressure and duration of pneumoperitoneum in laparoscopic surgery
Reduce risk of infection
Reduce drying of tissues (limit heat and light)
Use frequent irrigation and aspiration in laparoscopic and laparotomic surgery
Limit use of sutures and choose fine non-reactive sutures
Avoid foreign bodies—such as materials with loose fibres
Minimal use of dry towels or sponges in laparotomy
Use starch- and latex-free gloves in laparotomy
Many of the traumas that cause adhesions are a routine part of surgery and, even if adhesion-reduction strategies are adopted, there can be conflicts—meticulous haemostasis is very important but, to achieve this, limiting the use of cautery may be problematic. Therefore, even if meticulous and careful surgical technique is employed, postoperative adhesions are very common [8]. Any type of surgery (however experienced the surgeon) at any site can cause postoperative adhesions and, while surgeons should adopt the adhesion reduction steps as listed in Table 1 during all operations, these steps may not be sufficient to prevent adhesion formation, as evidenced by the SCAR study data [2, 3].
Importantly, while surgical adhesiolysis is the current method of managing adhesions, regardless of the method of adhesiolysis or the type of adhesion, it results in further traumatic disruption and a high rate of adhesion reformation (mean 85%), as well as the development of de novo adhesions [9]. Studies indicate that, compared with unaffected peritoneal tissue, adhesive tissue contains higher levels of growth factors, suggesting a greater propensity for adhesion reformation. These factors (fibroblast growth factor) depress fibrinolytic activity and induce tissue fibrosis and, thus, reformed adhesions tend to be more dense and severe than de novo adhesions [10, 11].
Adhesion-reduction agents
A number of adjuvants and strategies have been investigated, including both pharmacological agents and physical barriers. Decisions on which agent to use are made by the individual surgeon but there is a clear place for agents that are safe, simple to use, clinically effective and affordable.
The quality of research on the use of adhesion-reduction agents is, unfortunately, variable. Most studies have looked at reduction in adhesions as the endpoint. In the majority of cases, the studies have compared the use of an agent with no treatment, sometimes in the same patient. Few studies have been blinded, with most evaluations of adhesion reduction made by the operating surgeon. The variation in adhesion classifications, mode of application of agents, lack of uniformity in surgical approaches and variations in the interpretation of results all make the assessment of the efficacy of the many agents difficult and almost impossible to compare. There are very few studies that have looked at the impact of an agent on clinical outcomes, such as pregnancy, reduction in SBO or ease of reoperative surgery. This is largely because of the complexity of undertaking clinical outcome studies in surgery [12]. Looking at pregnancy as an outcome in women with infertility, which is multi-factorial, is problematic. Likewise, the number of patients needed to power a study to show a reduction in SBO is considerable [12], requiring many centres or a lengthy time period to undertake such work, which can lead to bias with inter-centre and inter-surgeon variables and changes in surgical practice [13]. To date, studies required for regulatory approvals of adhesion-reduction agents have focussed on adhesion reduction [14].
Cost-effectiveness of anti-adhesion agents
Post-operative adhesions clearly have an important impact on the successful clinical outcome of surgery and pose an important cost burden. In considering the use of an adhesion-reduction agent, factors to be taken into consideration include not only its safety, ease of use and clinical efficacy, but also whether it is cost-effective. While it is difficult to evaluate the impact that an anti-adhesion agent will have on subsequent clinical outcomes and, thus, whether it will be cost-effective [12], it is possible to model this.
Epidemiological data from the SCAR study [
75
] have been used to model the cumulative costs over time of adhesion-related hospital readmissions following surgery with or without the use of an adhesion-reduction agent [
12
] and have recently been updated with the costs of inflation. This model is helpful in understanding the value of different adhesion-reduction agents and suggests that a suitably priced and effective agent can result in overall cost savings to a healthcare system. For example, agents costing around €130 only need to demonstrate a 26% reduction in adhesion-related readmissions 3 years after surgery to return their costs, whereas agents costing around €300 per operation would need to demonstrate at least a 60% reduction in adhesion-related readmissions 3 years after surgery to return the costs of their investment (Fig.
1
) [
12
]. In either scenario, extension of the model assessment period beyond 3 years after surgery results in cost savings.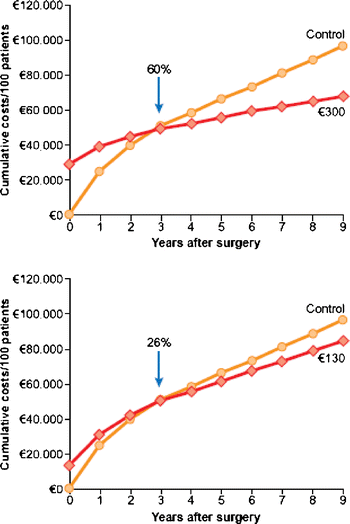 It is clear from this that, in considering the choice of an adhesion-reduction agent, the cost as well as the clinical impact of the agent needs to be considered carefully. This is particularly the case if the prophylactic use of adhesion-reduction agents is to be adopted widely in routine surgery.
Advising patients and medicolegal considerations
Even with advances in surgical techniques, it is clear that adhesions remain a common consequence of surgery, with serious health implications for patients, including SBO, infertility and chronic pelvic pain. Even if adhesions are "silent," posing no apparent issues for the patient, the risks of complications at reoperative surgery and late SBO onset are considerable.
Adhesion-related complications are increasingly becoming the subject of forensic and medicolegal debate and there is evidence that medicolegal litigation resulting from complications secondary to postoperative adhesion formation are adding to the healthcare costs and the clinician's burden [76, 77].
In the consent process, it is recommended that patients should be advised of the reasons for and nature of the procedure, the benefits, risks, discomforts and alternatives and the consequences of not undergoing the procedure.
It is common practice in the consent process to advise patients of risks of complications, such as general anaesthesia (<1:100), and general complications after laparoscopic surgery, e.g. pain, bleeding, infection, damage to the bowel/bladder/urethra (1:1000 in sterilisations and 1:500 for other procedures) [78]. These risk ratios are less than the risk of a directly adhesion-related readmission (adhesiolysis) in the first year after surgery following a known high-risk laparoscopic procedure, such as an ovarian or tubal procedure, or open ovarian surgery (1:80 following laparoscopic surgery and 1:50 following open surgery). Even in patients undergoing other therapeutic laparoscopic surgery (excepting tubal sterilisations), the risk of a directly adhesion-related readmission is 1:70 and, for open surgery on the Fallopian tubes or uterus, it is 1:120 and 1:170, respectively, i.e. comparatively high [3].
The International Adhesions Society undertook a survey to review the information on adhesions that patients received [79, 80]. In only 10.4% of cases were adhesions mentioned as part of the informed consent process and in 14.4% adhesions were discussed but were not part of the consent process. In patients undergoing specific adhesiolysis surgery, 54% reported being given some kind of information about adhesions but only 46% were given information on adhesion-reduction agents. In procedures not involving adhesiolysis, only 10% of patients reported receiving any adhesion information and only 6% were given information on adhesion-reduction agents.
Tissue damage to underlying structures during laparoscopic surgery has been shown to be the most common cause of successful surgical negligence suits [81] and it is estimated that the risk of bowel injury is between 10% and 25% of laparoscopic adhesiolysis cases [82] and there is a 19% risk of inadvertent enterotomy during reoperative laparotomy [83]. Furthermore, in a study of misadventure data following laparoscopic surgery, while injury to the common bile duct was the most frequent problem, perforation of the small bowel or colon was the second most common injury and two-thirds of injuries were not noted until after the end of the surgical procedure [84]. Risk of damage was greater when there were difficulties visualising structures—which can be a common issue when operating on a patient with pre-existing adhesions.
With published evidence suggesting that the long-term risk of adhesion-related complications is high in the majority of gynaecological procedures, there is an urgent need for gynaecologists to be cognisant of the potential for medicolegal action [76, 77, 85] if patients are not informed routinely of the risk of adhesions.
Consensus on how to avoid adhesions
To reduce the risk of adhesions, surgeons should actively consider adopting anti-adhesion strategies as described in Table 1, particularly in "high-risk" gynaecological procedures (whether open or laparoscopic), such as ovarian, endometriosis or tubal surgery, myomectomy and adhesiolysis.
New developments in anti-adhesion products and our practical knowledge of using such agents has increased in recent years. Not all agents are difficult or costly to use and there is now promising evidence of efficacy, not only in the reduction of adhesions, but also in subsequent outcomes, such as reduction in SBO or improvement in pregnancy rates in infertile women.
At present, surgeons largely employ good surgical practice to prevent adhesion formation and adhesiolysis to treat adhesions—despite the high reformation rate [9]. Sound epidemiological studies have shown that, even with advances in surgical practice, adhesions continue to represent a significant burden for patients, surgeons and healthcare systems. Evidence is increasing to support the efficacy of adhesion-reduction agents to complement good surgical practice, including agents that are relatively inexpensive and simple to use (Table 2).
It is also time to advise our patients of the risks associated with adhesion-related complications during the consent process. Failure to inform patients adequately of the risks could, indeed, result in claims of medical negligence.
Further research on the use of adhesion-reduction agents is essential to better understand their impact on clinical outcomes, recognising that such studies are difficult to undertake [12]. Research also needs to continue into the use of more effective adhesion-preventative agents and combinations of strategies and agents. All surgeons should act now to reduce adhesions, thereby, fulfilling their duty of care to patients.
As the results of further studies on adhesions and adhesion-reduction agents become available, the consensus proposals below should be reviewed.
Consensus proposals: actions to reduce adhesions

1.

Adhesions need to be recognised as the most frequent complication of abdominal surgery.

2.

Surgeons, other healthcare workers, budget holders and policy makers need to increase their awareness and understanding of adhesions and the associated healthcare burden and costs and take active steps to reduce this.

3.

Patients need to be informed of the risk of adhesions, given that adhesions are now the most frequent complication of abdominal surgery.

4.

Surgeons who do not advise of the risk of adhesions may put themselves at risk of claims for medical negligence.

5.

Surgeons have a duty of care to protect patients by providing the best possible standards of care—which should include taking steps to reduce adhesion formation.

6.

Surgeons should adopt a routine adhesion-reduction strategy, at least in surgery at high risk for adhesions, such as:

- Ovarian surgery

- Endometriosis surgery

- Tubal surgery

- Myomectomy

- Adhesiolysis

7.

Good surgical technique is fundamental to any adhesion-reduction strategy—see Table 1

8.

Surgeons should consider the use of adhesion-reduction agents as part of their adhesion-reduction strategy, giving special consideration to agents with data to support safety in routine abdominopelvic surgery and efficacy in reducing adhesions. The practicality and ease of use of agents, as well as the cost of any agent, will influence their acceptability in routine practice.

9.

Further research to understand the impact that adhesion-reduction agents have on clinical outcomes will be important.

10.

Research towards more effective preventative agents should be encouraged—including the use of combinations of agents to prevent the formation of de novo adhesions, as well as adhesion reformation.

11.

Surgeons need to act now to reduce adhesions and fulfil their duty of care to patients.
Declarations
Acknowledgements
The consensus project and manuscript development was facilitated by Corvus Communications Limited under the direction of Rudy DeWilde and Geoffrey Trew. Special thanks go to the work of Alison Crowe, Alastair Knight and Jill Kirkdale in patiently supporting and encouraging all Adhesions Working Party members to actively contribute and feed back on all stages of the project development.
Authors' Affiliations
(1)
Department OBGYN, Pius-Hospital, Oldenburg, Germany
(2)
Reproductive Medicine and Surgery, Hammersmith and Queen Charlotte's Hospital, London, UK
(3)
Imperial College, University of London, London, UK