Broad ligament hematoma following a normal vaginal delivery
Gynecological Surgery
Endoscopy, Imaging, and Allied Techniques
2006
3:184
Received: 16 November 2005
Accepted: 29 December 2005
Published: 8 March 2006
Abstract
Broad ligament hematoma is an unusual complication that can occur during delivery, just after delivery or later in the puerperium. Rapid labor, cesarean section, instrumental deliveries, and trauma have been suggested as predisposing factors. A case of a broad ligament hematoma developing after normal vaginal delivery is presented. A high level of suspicion and the use of imaging modalities such as trans-vaginal ultrasound and computerized tomography confirmed the diagnosis. Conservative management was employed due to the patient's hemodynamic stability.
Keywords
Pelvic FracturePostpartum HemorrhageInstrumental DeliveryNormal Vaginal DeliverySonographic Evaluation
Introduction
Postpartum hemorrhage (PPH) is a frequent complication of labor. The extent of the bleeding may be clinically underestimated until shock develops. This complication is one of the major causes of maternal death [1]. The most common cause is uterine atony; however, clinical examination and a high level of suspicion should arise to exclude other causes [2]. Hematomas may develop anywhere along the genital tract and sequester a significant amount of blood, which often exceeds clinical estimates. Broad ligament hematoma is an unusual complication that can occur during delivery, just after delivery or later in the puerperium. Trauma is believed to be the major causal factor of immediate hematoma, while pressure necrosis may cause late onset hematoma. A case of a broad ligament hematoma developed after a spontaneously vaginal delivery and managed conservatively is presented.
Case report
A 29-year-old woman (gravida 5, para 4) was admitted to the labor unit due to spontaneous rupture of the membranes at 40 weeks' gestation. The patient had had four normal vaginal deliveries and the course of her current pregnancy was unremarkable. Since regular contractions did not develop, oxcytocin augmentation was started after an intra-uterine pressure catheter (IUP) was inserted. Labor progressed normally and the patient spontaneously delivered a 3.610-kg boy. There were no vaginal or perineal tears. The 1st and 2nd stages of labor lasted approximately 4 h and 30 min respectively. The placenta was delivered complete with minimal blood loss. The patient was transferred to the maternity unit 2 h after delivery with a normally contracted uterus and without any evidence of abnormal blood loss. Six hours after delivery the patient complained of severe right lower quadrant (RLQ) abdominal pain. On examination the uterus was well contracted and no excessive vaginal bleeding was demonstrated. The abdomen was soft without peritoneal signs, but the RLQ was extremely tender on palpation. She spontaneously passed clear urine. An ultrasound evaluation using transabdominal and transvaginal transducers revealed a normal-looking uterus and ovaries and a large hypoechogenic mass near the right ovary suggesting the diagnosis of broad ligament hematoma (Fig.
1
). A computerized tomographic (CT) scan demonstrated an elongated hypo-isodense fluid (35–50 HU) adjacent to and to the right of the enlarged uterus compatible with hematoma of the broad ligament thus supporting this diagnosis (Fig.
2
). The patient's vital signs were stable, blood pressure was 120/80 and her pulse was 70 bpm. Serial blood counts and clotting factor levels were stable with no signs of occult intra-abdominal bleeding. The patient was managed conservatively and after few hours the pain lessened. The patient was discharged on postpartum day 3. Although sonographic evaluation of the pelvis prior to discharge revealed the same finding, the sonographic evaluation of the pelvis 2 months after delivery was normal.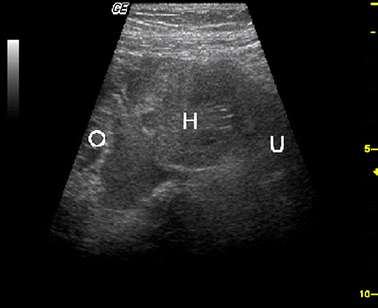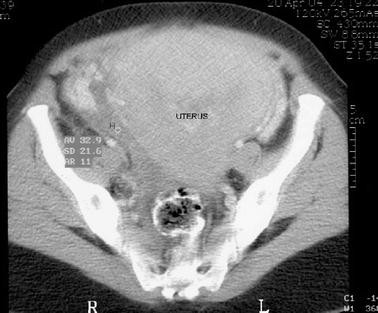 Discussion
Broad ligament hematoma following normal vaginal delivery is fortunately an uncommon complication of labor. Usually these hematomas are the result of upper vaginal, cervical or uterine laceration extending into the uterine or vaginal arteries. Several cases of broad ligament hematomas were described in the early 1960s and 1970s [3–5]. Rapid labor, cesarean section, instrumental deliveries, and trauma were suggested as predisposing factors in the formation of broad ligament hematoma [6, 7]. Diagnosis at that time was based on the clinical impression of internal hemorrhage. Classic findings included persistent postpartum pain together with shock, elevated uterine fundus, and a unilateral fluctuating mass. Treatment differed (conservative management, packing or abdominal hysterectomy) based on the patient's hemodynamic situation. All cases of trauma complicated by pelvic fractures in pregnant patients should raise the suspicion of broad ligament hematoma. A fetal death resulting from bilateral large broad ligament hematomas associated with pelvic fractures after a motor vehicle accident was reported recently [8]. The underlying mechanism suggested by the authors was a reduction in utero-placental blood flow due to blood loss and tamponade on uterine vessels resulting in fetal hypoxia and death.
Rapid diagnosis is of utmost importance and will determine the treatment options. Even large hematomas can frequently evade adequate assessment by physical examination alone. Nowadays, imaging studies may help the clinician to confirm the diagnosis. Ultrasound, CT, or MRI have been used to diagnose and treat pelvic hematomas. It has been suggested that MRI depicts postpartum hemorrhage even in deep extraperitoneal regions where the hematoma is clinically non-apparent, and in addition it can delineate the extent of the hematoma [9]. However, this tool is not as accessible as ultrasound in every medical center. Ultrasound remains the method of choice for diagnosis of broad ligament hematomas, demonstrating its relationship to the pelvic organs.
In our case, a high level of suspicion led us to perform transvaginal ultrasound and to detect the hematoma that developed during or after delivery. We cannot exclude the possibility that the broad ligament hematoma was iatrogenic, resulting from insertion of the intra-uterine catheter, a complication that has not been described. Fortunately, our patient was hemodynamically stable, there were no signs of coagulopathy, and the hematoma did not expand. In patients in whom continued bleeding is suspected, laparotomy may be indicated, although conservative procedures to treat broad ligament hematoma such as uterine arterial embolization (UAE) have also been reported [10].
Authors' Affiliations
(1)
Department of Obstetrics and Gynecology, Edith Wolfson Medical Center, Holon and Sackler School of Medicine, Tel Aviv University, Tel Aviv, Israel
(2)
Department of Radiology, Edith Wolfson Medical Center, Holon and Sackler School of Medicine, Tel Aviv University, Tel Aviv, Israel
Copyright
© Springer-Verlag Berlin / Heidelberg 2006