Communication

Open Access
Laparoscopic repair of vaginal vault dehiscence after postpartum hysterectomy
Gynecological Surgery
Endoscopic Imaging and Allied Techniques
2009
7:483
Received: 27 January 2009
Accepted: 24 March 2009
Published: 7 May 2009
Abstract
Post-hysterectomy vaginal vault dehiscence was triggered by intercourse. Laparoscopy allows examination of vaginal vault and permits laparoscopic repair.
Keywords
Vaginal vault dehiscence
Postoperative complication
Background
Vaginal vault dehiscence with extrusion of intraperitoneal contents, also called evisceration, is a rare complication following hysterectomy [1]. We present a case of laparoscopic repair of vaginal vault dehiscence after emergency hysterectomy for postpartum haemorrhage, followed by a discussion of cause and a literature review. This condition has not been previously reported after postpartum hysterectomy.
Case
A 34-year-old G4P3 underwent emergency postpartum hysterectomy to control postpartum haemorrhage on day 10 after a normal vaginal delivery at 34 weeks. The vaginal vault was closed with Vicryl* (Ethicon) 1 continuous interlocking suture. The round ligaments were attached to the vault to prevent future prolapse. The estimated blood loss was over 6 l. Postoperatively, she was given 18 U of packed cells, fresh frozen plasma, platelets, factor VIII and was observed on the intensive care unit. The patient was transferred to a general gynaecology ward on postoperative day 3. Following this, her postoperative recovery was uneventful and she was discharged on day 5. At 3 months postpartum, she experienced sudden protrusion of a mass from the introitus. This was associated with abdominal pain and nausea. She was readmitted to hospital but by the time she was examined the mass had disappeared and speculum examination was unremarkable. The protrusion occurred soon after her first episode of sexual intercourse post delivery. The patient remained unwell with a clinical picture resembling an acute abdomen. On day 2 of the admission, a decision was made for examination under anaesthetic.
An examination under anaesthetic and laparoscopy was performed using Hasson entry. Complete dehiscence of the vaginal vault was noted and the bowel and omentum were adherent to the vaginal vault. There was no haematoma, pelvic collection or necrosis of vaginal edges (Fig.
1
). The edges were debrided with endoscopic shears (Fig.
2
) and were closed with interrupted 2.0 Vicryl (Ethicon) sutures using our standard intra-corporeal suturing technique. The surgeon considered placing an omental flap in the Pouch of Douglas to isolate the cul-de-sac but felt that it would not contribute to the vault repair. Omental protection could have separated the Pouch of Douglas from the peritoneal cavity but would have not added to the tensile strength of the repair since, in our patient, vault rupture occurred despite already having omentum adhering to the cul-de-sac. Placing a mesh also has been described for recurrent bowel evisceration where previous vaginal vault repairs failed [
2
,
3
]. In our case, the patient was young and long-term mesh erosion risk outweighed benefits. The patient recovered well and was advised to abstain from intercourse until the vaginal vault had healed and she had been seen for follow-up in outpatients.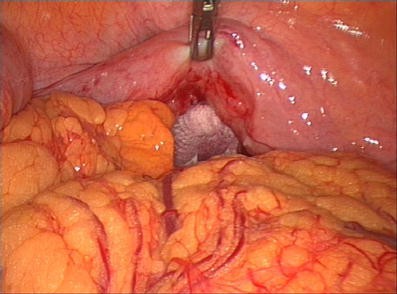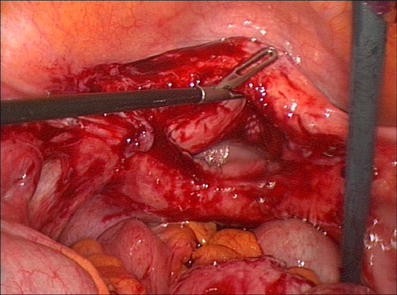 Discussion
The first case of evisceration was described in 1864 by Hyernaux [4]. McGregor, in 1907, described a spontaneous vaginal rupture in a 63-year-old mother of ten who carried "half a ton of coals", "heard something give way" and then, the following day, fell "astride across the back of a chair" and sustained "a severe blow on the perineum" after taking some whisky [5]. Vault dehiscence has been known to occur following coitus in post-hysterectomy patients [6–10]. The condition has been reported after every type of hysterectomy, but it is still a rare event [8, 11–18]. It is exceptionally uncommon following conventional coitus in women who have not had vault surgery or an iatrogenic procedure involving puncture of the peritoneum though the vaginal vault [19]. Patients present with a mass protruding through the vagina, bleeding, discharge, vague abdominal pain, bowel associated symptoms or pneumoperitoneum [7, 20]. An acute abdomen may occasionally be the presenting feature if the hernia is strangulated or incarcerated.
Hur et al. [12] reported the incidence of vaginal vault dehiscence to be around 4.9% after total laparoscopic hysterectomy, 0.29% after vaginal approach and 0.12% after abdominal hysterectomy with an average time to occurrence of 11 weeks postoperatively. In a paper published by Iaco et al. [13], they found the rate of evisceration to be 0.26%, 0.25% and 0.79% for abdominal, vaginal and laparoscopic hysterectomies, respectively. In younger patients, intercourse appears to be the trigger event and occurs in the first 6 months after surgery. In older patients, evisceration is more likely to be a spontaneous event, associated with vault weakness and can take place years after the procedure [13, 15, 21].
There are only 13 reported cases of evisceration after total laparoscopic hysterectomy (TLH). During TLH all the pedicles are sutured laparoscopically and the uterus is removed via colpotomy, which is also performed laparoscopically using different energy sources. Hur et al., in their review of 7,039 hysterectomies, found that eight out of ten dehiscences were complications of TLH, despite only 2% of hysterectomies performed by this mode. All eight patients were young (average age 39) and the operation was performed for benign disease. This is surprising since the technique of closure of the vaginal cuff should be no different from traditional closure. It may be a reflection on technical ability but a review of the literature does not support this and has shown that closure technique does not influence the dehiscence rate [13]. Some surgeons do not close the vaginal wall. When Iaco et al. compared 1,440 patients with vaginal vault closure to 2,330 with no closure, there was no increased incidence of postoperative herniation. Five different ways in which the vaginal vault was closed also did not influence long-term morbidity as evaluated by Cruikshanks and Pixley [22]. An alternative theory is that the dehiscence rate may be related to the technique utilised to open the vaginal vault.
The use of diathermy in addition to other factors unique to laparoscopic surgery has been suggested as a predisposing factor [1, 11]. Mechanical energy in the form of the harmonic scalpel has also been implicated. Whilst it has not been documented in the literature, this issue has been discussed in open forum at several meetings. We propose that incision of the vaginal cuff with a cold knife scalpel during laparoscopic hysterectomy, when colpotomy is performed vaginally, would be associated with a reduced rate of vault dehiscence. This is also eliminates laparoscopic suturing, which in some cases can be a limiting and the most technically challenging stage of laparoscopic hysterectomy. This approach is facilitated by a laparoscopic intra-fascial dissection of the cervix to below the level of the vaginal fornices leaving the utero-sacral complex intact.
In our series of 250 of complete laparoscopic hysterectomies (AK) with removal of the cervix, we have no cases of vault dehiscence (in publication).
Conclusion
Sudden occurrence of vaginal prolapse and abdominal pain or nausea in a young woman associated with intercourse with of recent history of hysterectomy should alert a clinician to consider vaginal vault dehiscence. A detailed gynaecological and sexual history and careful vaginal examination are essential. Under these circumstances, gas under the diaphragm does not necessary mean a bowel perforation or obstruction. The management of prolapsed bowel contents should be immediate reduction and expedited repair of the vault. We opted for laparoscopy in this case because it offered a minimally invasive approach and allowed inspection and debridement of the vault, with dissection of any adherent structures, before suturing the defect laparoscopically. The alternative, without recourse to laparotomy, would be a vaginal repair under laparoscopic control [11, 20].
Declarations
Conflict of interest
I certify that there is no actual or potential conflict of interest in relation to this article.
Authors' Affiliations
(1)
Minimal Access Therapy Training Unit, Post Graduate Medical School, University of Surrey, Guildford, UK
(2)
Department of Gynaecology, Royal Surrey Hospital, Guildford, UK