Techniques and Instrumentation

Open Access
Fetoscopic endoluminal tracheal occlusion and reestablishment of fetal airways for congenital diaphragmatic hernia
Gynecological Surgery
2018
15:9
Received: 15 December 2017
Accepted: 12 April 2018
Published: 8 May 2018
Abstract
Background
Congenital diaphragmatic hernia (CDH) is a congenital anomaly with high mortality and morbidity mainly due to pulmonary hypoplasia and hypertension. Temporary fetal tracheal occlusion to promote prenatal lung growth may improve survival. Entrapment of lung fluid stretches the airways, leading to lung growth.
Methods
Fetal endoluminal tracheal occlusion (FETO) is performed by percutaneous sono-endoscopic insertion of a balloon developed for interventional radiology. Reversal of the occlusion to induce lung maturation can be performed by fetoscopy, transabdominal puncture, tracheoscopy, or by postnatal removal if all else fails.
Results
FETO and balloon removal have been shown safe in experienced hands. This paper deals with the technical aspects of balloon insertion and removal. While FETO is invasive, it has minimal maternal risks yet can cause preterm birth potentially offsetting its beneficial effects.
Conclusion
For left-sided severe and moderate CDH, the procedure is considered investigational and is currently being evaluated in a global randomized clinical trial (https://www.totaltrial.eu/). The procedure can be clinically offered to fetuses with severe right-sided CDH.
Keywords
FETO
Fetal endoluminal tracheal occlusion
CDH
Congenital diaphragmatic hernia
Fetal surgery
Fetoscopy
Background
Congenital diaphragmatic hernia (CDH) is a life-threatening condition affecting up to 3 in 10,000 live born babies [1]. The diaphragmatic defect allows abdominal organs to herniate into the thorax which prevents normal lung development. Depending on the side and size of the defect, this may be the liver, bowel, spleen, and/or stomach. The majority of defects are left sided (LCDH 85%). Thirteen percent are right sided (RCDH), and bilateral defects or other forms occur very rarely. Associated anomalies are frequent and should be ruled out by imaging and genetic testing as they independently influence survival and morbidity. In most registries currently, survival is approximately 70% depending on the case mix and location of treatment [2]. Surviving patients may suffer from not only medium and long-term morbidity predominantly respiratory in nature, but also gastro-esophageal reflux, failure to thrive, and less common orthopedic or other problems.
Individualized prognosis of isolated CDH can be made prenatally by using the lung size, the presence of the liver in the thorax, and the side of the defect [
3
]. Patients with predicted poor prognosis can be offered experimental fetal therapy. To improve survival, the intervention should reverse pulmonary hypoplasia (i.e., stimulate lung growth) before birth. Historically, this was attempted by anatomical repair of the defect in utero. The results of this approach were suboptimal [
4
]. Also, the anatomic defect itself can be relatively easily managed after birth hence it is not the problem. An alternative strategy, based on the clinical observation that fetuses with laryngeal atresia have larger lungs, led to animal experiments that demonstrated that fetal tracheal occlusion reverses experimental pulmonary hypoplasia [
5
]. Tracheal occlusion leads to accumulation of lung fluid which in turn causes lung stretch. This activates a pathway that leads to proliferation and increased growth of the airways and pulmonary vessels, nicely summarized in the acronym PLUG: "Plug the Lung Until it Grows" (PLUG) [
6
]. However, when the occlusion is maintained until birth, the number of type II pneumocytes is abnormally low, leading to a relative surfactant deficiency [
7
]. By reversing the tracheal occlusion before birth, the balance between type I and type II pneumocytes at birth is more optimal. This is captured in the concept "plug-unplug sequence," and reversal of occlusion is an important component in the fetal treatment strategy [
7
]. Nowadays, tracheal occlusion is uniquely performed by minimally invasive fetal endoluminal tracheal occlusion (FETO) and performed under sono-endoscopic guidance. This is a percutaneous procedure in which a latex balloon is endoscopically positioned above the carina and inflated to occlude the trachea [
8
] (Fig.
1
). The present paper describes the instrumentation and the technical aspects of the FETO procedure as currently performed by the above clinical research consortium within their clinical trial.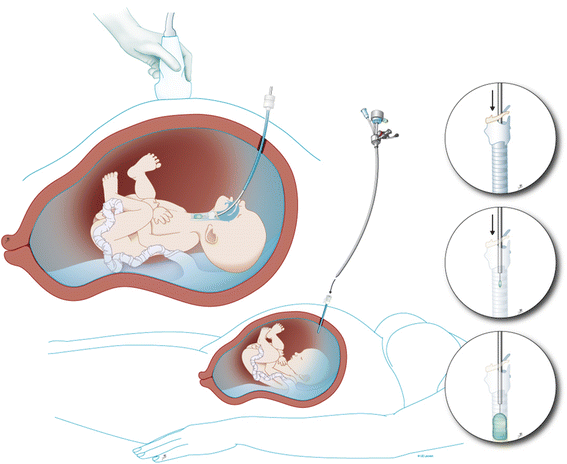 Results
To date, the published data are predominantly based on observational trials and small case series [8]. There is one randomized controlled trial [25, 26] that showed benefit of FETO; however, in that study all deliveries were by EXIT procedure, there was a case mix of right and left CDH, and the methodology was substantially different to what is currently being practiced in Europe and the USA.
Compared to historical controls of similar severity, FETO increases survival rate from 24 to 49% in LCDH with o/eLHR < 25% and from 17 to 42% in RCDH with o/eLHR < 45% [21, 26] (Fig. 2c, d). FETO also seems to reduce early neonatal respiratory morbidity.
Discussion
This potential benefit is now being investigated in two parallel randomized clinical trials (RCT) "Tracheal Occlusion To Accelerate Lung growth" (https://www.totaltrial.eu/), in fetuses with LCDH and either severe or moderate lung hypoplasia (NCT01240057 and NCT00763737). Current fetal treatment centers are in Leuven, Belgium; Paris, France; London, UK; Barcelona, Spain; Milan and Rome, Italy; Bonn, Germany; Toronto, Canada; Brisbane, Australia; and Houston, Texas, USA. These centers have a high volume fetoscopy program, completed a minimum learning curve of 15 FETO procedures, and committed to strict adherence to a prenatal and postnatal management protocol. The trial has recruited at the time of writing over 165 (moderate) and over 50 (severe) patients. Results are expected within the next 2 years at the current recruitment rate (moderate). We anticipate that more centers in the USA and in Japan will be joining the task force which may accelerate recruitment.
Conclusions
FETO may alter the natural history of congenital diaphragmatic hernia, and early clinical results look promising. It is hoped that the ongoing TOTAL trial will result in proof of benefit. FETO is an invasive technique associated with a significantly increased risk for preterm birth which potentially tempers its benefits. The procedure requires specific skills and instrumentation and permanent services and is at present limited to a select group of centers. If proven effective, this procedure is likely to be implemented more widely and appropriate dissemination will require an extensive training program and careful oversight in order to ensure safe implementation.
Abbreviations
CDH :

Congenital diaphragmatic hernia
EXIT:

Ex utero intrapartum treatment
FETO :

Fetal endoluminal tracheal occlusion
LCDH:

Left-sided congenital diaphragmatic hernia
LHR:

Lung-to-head-ratio
MRI :

Magnetic resonance imaging
o/e LHR:

Observed to expected lung-to-head-ratio
PLUG:

Plug the Lung Until it Grows
PPROM:

Preterm and Prelabor Rupture Of Membranes
RCDH:

Right-sided congenital diaphragmatic hernia
RCT :

Randomized clinical trial
TOTAL:

Tracheal Occlusion To Accelerate Lung growth
Declarations
Funding
JD is partly funded by the Great Ormond Street Hospital Charity Fund. LVDV is supported by the Erasmus+ Programme of the European Commission (2013-0040). FMR is supported by the KU Leuven (C32/17/054). Our research is in part supported by an Innovative Engineering for Health award by the Wellcome Trust (WT101957), the Engineering and Physical Sciences Research Council (NS/A000027/1), and the Fetal Health Foundation (USA).
Authors' contributions
LVDV, FMR, and JDP wrote the initial manuscript. EG, AB, YV, KN, CB, GG, NP, PB, GR, MAB, JDP are members of the FETO task force and were involved in development of the technique, collection of data, and editing of the manuscript. LDC and JDP acquired the images and clips. All authors read and approved the final version of the manuscript.
Authors' information
LVDV, FMR, LDC, and JD are in the Academic Department of Development and Regeneration, Woman and Child, Biomedical Sciences, and Clinical Department of Obstetrics and Gynaecology, KU Leuven, Leuven, Belgium.
EG, AB, YV, KN, CB, GG, NP, PB, GR, MAB, and JD are members of the TOTAL (Tracheal Occlusion To Accelerate Lung Growth Trial) Consortium.
EG is head of the Barcelona Center for Maternale Fetal and Neonatal Medicine (Hospital Clínic and Hospital Sant Joan de Déu), IDIBAPS, University of Barcelona, and Centre for Biomedical Research on Rare Diseases (CIBER-ER), Barcelona, Spain.
AB is head of the Department of Obstetrics, Gynaecology and Reproductive Medicine, Hôpital Antoine-Béclère, University Paris Sud, Clamart, France.
YV is head of the Fetal Medicine Unit, Obstetrics and Fetal Medicine Department, Necker-Enfants Malades Hospital, Université Paris Descartes, Sorbonne Paris Cité, Paris, France.
KN is head of the Fetal Medicine Center, Harris Birthright Centre, King's College Hospital, London, UK.
CB is head of the Division of Fetal Surgery, Department of Obstetrics and Prenatal Medicine, University of Bonn, and Department of Obstetrics and Gynecology, University of Cologne, Germany.
GG is head of the Mater Health Services, Mater Research UQ, Brisbane, Australia.
NP is in the Department of Obstetrics and Gynecology "L. Mangiagalli," Fondazione IRCCS "Ca′ Granda" - Ospedale Maggiore Policlinico, Milan, Italy.
PB is head of Neonatal Surgery Unit, Department of Medical and Surgical Neonatology, Bambino Gesù Children's Hospital, IRCCS, Piazza S. Onofrio, 4, 00165, Rome, Italy.
GR is head of the Fetal Medicine Unit, Mt. Sinai Hospital, and University of Toronto, Toronto, Canada.
MAB is head of the Department of Obstetrics and Gynecology, Baylor College of Medicine and Texas Children's Fetal Center, Houston, Texas, USA.
AB, PB, and JD are members of the European Reference Network on Rare and Inherited Congenital Anomalies "ERNICA."
Ethics approval and consent to participate
Not applicable.
Competing interests
The authors declare that they have no competing interests.
Publisher's Note
Springer Nature remains neutral with regard to jurisdictional claims in published maps and institutional affiliations.
Open AccessThis article is distributed under the terms of the Creative Commons Attribution 4.0 International License (http://creativecommons.org/licenses/by/4.0/), which permits unrestricted use, distribution, and reproduction in any medium, provided you give appropriate credit to the original author(s) and the source, provide a link to the Creative Commons license, and indicate if changes were made.
Authors' Affiliations
(1)
Academic Department of Development and Regeneration, Woman and Child, Biomedical Sciences, and Clinical Department of Obstetrics and Gynaecology, KU Leuven, Leuven, Belgium
(2)
TOTAL (Tracheal Occlusion To Accelerate Lung Growth Trial) Consortium, Leuven, Belgium
(3)
BCNatal – Barcelona Center for MaternaleFetal and Neonatal Medicine (Hospital Clínic and Hospital Sant Joan de Déu), IDIBAPS, University of Barcelona, and Centre for Biomedical Research on Rare Diseases (CIBER-ER), Barcelona, Spain
(4)
Department of Obstetrics, Gynaecology and Reproductive Medicine, Hôpital Antoine-Béclère, University Paris Sud, Clamart, France
(5)
Fetal Medicine Unit, Obstetrics and Fetal Medicine Department, Necker-Enfants Malades Hospital, Université Paris Descartes, Paris, France
(6)
Harris Birthright Centre, King's College Hospital, London, UK
(7)
Division of Fetal Surgery, Department of Obstetrics and Prenatal Medicine, University of Bonn, Bonn, Germany
(8)
Department of Obstetrics and Gynecology, University of Cologne, Cologne, Germany
(9)
Mater Health Services, Mater Research UQ, Brisbane, Australia
(10)
Department of Obstetrics and Gynecology, "L. Mangiagalli," Fondazione IRCCS "Ca' Granda" - Ospedale Maggiore Policlinico, Milan, Italy
(11)
Neonatal Surgery Unit, Department of Medical and Surgical Neonatology, Bambino Gesù Children's Hospital, IRCCS, Rome, Italy
(12)
Fetal Medicine Unit, Mt Sinai Hospital, University of Toronto, Toronto, Canada
(13)
Department of Obstetrics and Gynecology, Baylor College of Medicine and Texas Children's Fetal Center, Houston, USA
(14)
European Reference Network on Rare and Inherited Congenital Anomalies "ERNICA", Rotterdam, The Netherlands